Your Upper Arlington Cosmetic Dentists
If There's One Thing We Love, It's A Proud Smile!
At Magnolia Dental, we want you to smile with the utmost confidence. Our low-pressure, highly-talented Upper Arlington cosmetic dentists are ready to bring your dream to smile to life! Get in touch with us today to schedule your first appointment and get ready to boost that everyday confidence.
Schedule Today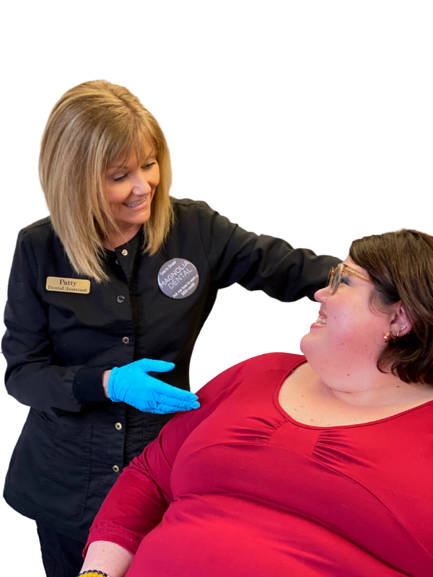 Orthodontics – Straighten Those Teeth, Correct That Bite & Decrease Risk of Gum Disease
Looking for an Upper Arlington orthodontist that gives you some options to choose from? Magnolia Dental is here for you. Before making that final decision, we invite you to look at the options we currently offer.

Invisalign: Our Most Popular "Invisible Braces" Choice
Invisalign is a low-key, long-term and transparent solution that helps patients straighten their teeth and correct an overbite – all without the cumbersome hardware that comes with traditional braces. Invisalign "trays" (or retainers) are typically replaced every 2-3 weeks as we continue to create a truly customized solution, fit just for you.
Start Invisalign Today!

Clear Correct – The Invisible Braces Option With More Options
Clear Correct is similar to Invisalign as another traditional braces alternative option. The primary difference at play is that Clear Correct offers three options to correct your smile:
Limited 6: Named after the six alignments for the treatment, it is often used to fix only minor adjustments
Limited 12: This option provides 12 aligners & offers fuller coverage for treatment
Unlimited: With unlimited, you get an unlimited amount of aligners (for up to three years) for us to work within treating your smile so that we are able to make more adjustments as the treatment continues
Choose Clear Correct
Professional Teeth Whitening Services

Perhaps the most popular cosmetic service we perform, teeth whitening is a great option for those looking to get a brighter smile in less time! You've probably seen the strips and the pens that you can get over-the-counter. These pale in comparison to the professional-grade whitening solutions we are certified to use. Our treatments are safe, effective and readily available at our Upper Arlington office!

Learn More About Our Dental Whitening Treatments

Porcelain Veneers & Lumineers

Durable. Discreet. Fully functional. A veneer is a thin shell that looks just like natural teeth and is placed over the visible portions of a less-than-aesthetic tooth. They are created to fit the unique contours of your smile while adding confidence to your daily life for the long term! Veneers are also a great option for patients recovering from Periodontal Disease.

Learn More
Columbus Cosmetic Dentistry Experts, Here To Help You
Have any questions about our cosmetic dentistry services? Looking to add a little extra boost to that already beautiful smile? Contact us today and a trusted member of our Upper Arlington team will be in contact with you shortly to help you!
Contact Us